Rooibos has been a staple in South African homes for decades, passed down through the generations by gogos and caregivers as a healthy and affordable beverage. Feeling cold? Have a cup of Rooibos. Coming down with something? I'll put on the kettle.
As a result, this local jewel grown only in the Cederberg valley of the Western Cape, is engrained in the memories of many South Africans and often associated with their youth. However, with health and wellbeing in the spotlight more than ever before, and with Rooibos being available in more formats and flavours than ever before, Rooibos is becoming a preferred choice of many young adults, not just a fond throwback to their childhood.
 A quick glance at social media will show many popular local celebrities and influencers promoting Rooibos as their drink of choice for a variety of reasons – with health often being at the forefront. Once such example is entrepreneur, philanthropist, radio presenter and media personality, Mohale Motaung, a long-time Rooibos proponent who is promoting healthy living through his latest partnership with Laager Rooibos. An advocate for positive change, the 26-year-old is passionate about the youth and encouraging young people to become the best versions of themselves through talk radio and other social media platforms.
 Commenting on his latest partnership with Laager Rooibos, Mohale said the traditional South African beverage has always been an important part of his diet: "I started drinking Rooibos at a very young age, but I fell in love with it when I was in boarding school. I was 15 at the time and we were offered either coffee or tea during breakfast. I would always go for Rooibos tea!"
 His love for Rooibos didn't go unnoticed, with Mohale's school friends referring to him as 'Mr Rooibos with a flask'. 
 "My fondest memory of drinking Rooibos tea is always carrying it in a flask when I was travelling, because not many establishments had Rooibos tea on the go".
 "Rooibos tea is my choice of hot beverage because it tastes amazing – hot or cold - and I've also come to appreciate its many health benefits," said Mohale, adding that his favourite blend is Laager Citrus & Ginger flavoured Green Rooibos.
 "I encourage others to drink Rooibos because it's very soothing after a long day. It's caffeine free, has amazing health benefits and can be enjoyed in many different ways throughout the year, no matter the season! But over and above my love for Rooibos, I want to help people understand the value to one's health. I want to popularise Rooibos as a beverage that can be enjoyed on the go. I plan to have regular Rooibos tea parties where people can gather, dress up, and enjoy tea-infused cocktails as well!"
Motaung is not alone. As Glamour Magazine South Africa noted: "According to the biggest food and drink predictions announced by Pinterest, afternoon tea is set to become the new happy hour. These predictions were based on the interests of 444 million Pinterest users worldwide, many of whom chose 'tea with a friend' over 'drinks after work' in an online survey."
With Covid giving the health trend a further boost, and younger generations understanding more than ever that health is wealth, it looks like tea is trendy again for all the right reasons.
Candice Sessions, Laager Marketing Manager, said they were so excited to be partnering with Mohale, who would bring the brand to a new generation of South African Rooibos tea lovers: "Mohale is joining the likes of chefs, Lebo and Tebo Ndala, and leading South African dietitian, Mbali Mapholi as ambassadors, both for the Laager Rooibos brand as well as for healthy living and wellbeing. Mohale's love for Rooibos is reflected in thousands of other South Africans who are embracing Rooibos for its proven health benefits, accessibility and great taste."
For more information on Laager Rooibos, or any of the other Joekels brands, visit www.joekels.co.za or follow @LaagerRooibosTea on Facebook and Instagram.
/ENDS
All images are complimentary for media use, provided the correct image credit is included and the images are published in conjunction with the content supplied.
(Images: Supplied by Laager Rooibos)
High resolution images are available upon request.
CAPTION: Entrepreneur, philanthropist, radio presenter and media personality, Mohale Motaung, a long-time Rooibos proponent who is promoting healthy living through his latest partnership with Laager Rooibos.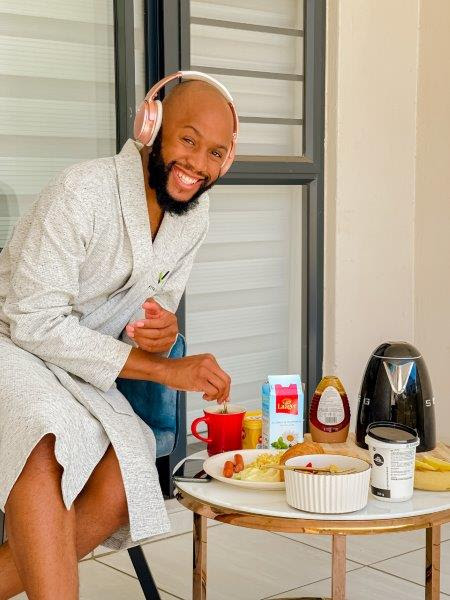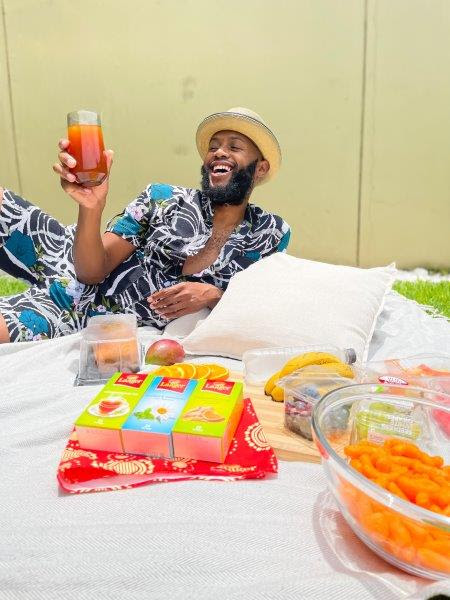 About Joekels
Joekels pack, blend and distribute some of South Africa's most popular household tea and coffee brands including Tetley, Laager, Tea Time, Tea4Kidz, and Society Coffee. Started in 1994 by businessman, Joe Swart and Master Tea Blender, Jonathan Kelsey, Joekels is an award-winning business with both Halaal and Kosher accreditation, as well as the highest global food safety and quality certification, FSSC 22000. The Laager Rooibos brand is accredited by the Heart & Stroke foundation of South Africa. Visit www.joekels.co.za